Why choose us?
1.Have 12 years international experience .
2.Ship to over 40 countries .
3.Quick delivery 30-45days .
4.One stop service from design to shipment .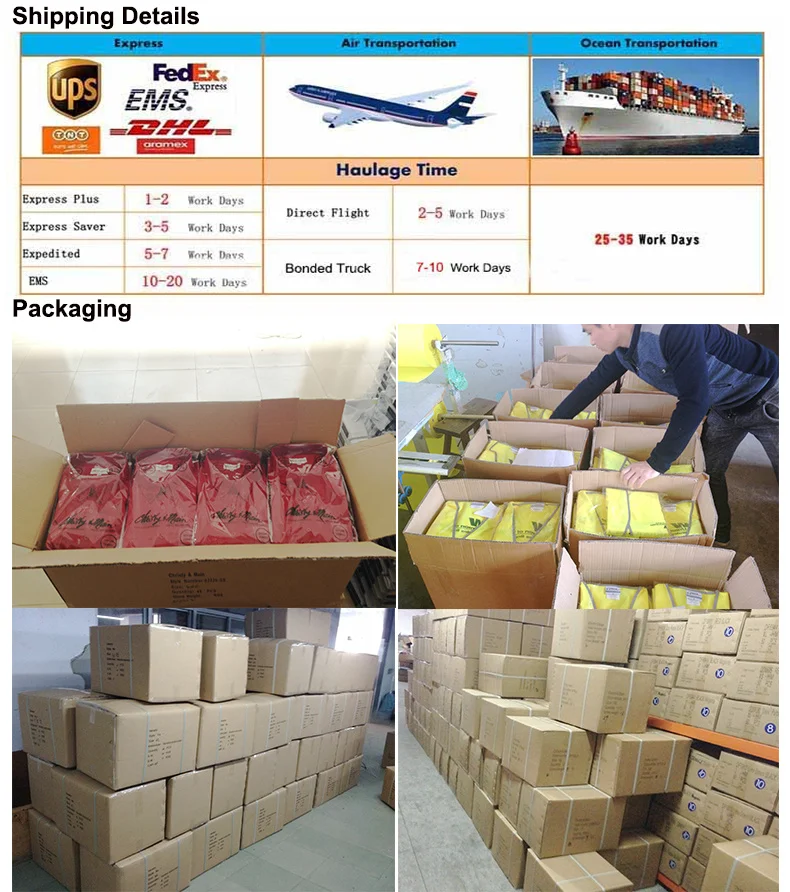 1. who are we?
We are based in Shanghai,China, start from 2002,sell to 40 countries. There are total about 20 people in our office.
2. Do you have the MOQ?what do we sell?
Yes. We sell focus on this industry for 14 years clothing
3. how can we guarantee quality?
A pre-production sample before mass production;
Final Inspection before shipment;
4. how can we avoid delay?
on-time delivery is very important for our business;once we promise the time, we would do it; if we fail we would take responsibility, discount is given or even air freight!
5. why should you pay deposit?
All production is customized to your color/size/logo, it is special; also we would need to buy fabric/trims etc in cash; actually 30% deposit is less than the fabric/material we spend in advance
6. why should you buy from us not from other suppliers?
Our team have 12 years experience, selling to 40 countries;we are very experienced in international business;
we know suitable price and on-time delivery are the two key points;
we supply good service rather than only products.
7. Can you visit factory?
Surely. Our showroom is in Shanghai, 1 hours from Pudong airport, 0.5 hour from Hongqiao airport;
You can also welcome to visit factory, 2 hours from our office.
8. Are we manufacturer?
Yes we have own factory in Shanghai; and also we have good relations with many factories, we sub-contract to other factories, depend on your order specification and delivery time.
We do what called CMT (cut, making, trimming)
We buy and arrange all fabric/zips from Shanghai office, to make sure they are correct quality
9. Do we have overseas office?
Yes at the moment we have overseas office in Germany near Frankfurt am, it mainly do marketing, R&D.
10. Can you get money returned if you finally found quality no good?
Within 15 days goods arrive into port, you are free to report any defect;
If there was a problem, we would discuss together to find a solution, including refund the money to you;
11. How long is the lead time?
Customized production take some time. We would like to how in below chart
Shanghai Top Fortune Industry Co., Ltd.
Add: Floor 3, Building 3,No 58 East WenXiang Rd,Songjiang,Shanghai,China 201613
About us: we are professional supplier of clothing, 15 years experience, selling to 40 countries.
Our products include t-shirts, jackets, sweatshirt, hoodies, fleece, sports wear, polo shirt and pants....other...
1. We are one leading supplier based in Shanghai, China, with 15years international business experience. We sell to 40 countries worldwide, including Germany, France, Europe, USA. In recent years we keep an average 50% turnover increasing.

2. Our customer include many international brand. Some have been 5-10 years relations with us.

3. We have 3 Sales Team: Textiles, Bags and Promotions. Each sales has 8 years working experience. We could supply you One-stop service for all products. Good Team cooperation could guarantee to reply all kinds of enquiry within 2 hours . Our sales culture is progressive and team-work.

4. We have strong control on supply chain management. We have own factory, 2-3 hours away from Shanghai Port or Ningbo Port. We organize fabric/material, eg we control from yarn to dye till weave; We supply total service from design/artwork, to first prototype, final prototype, PP sample, mass production, till pre-shipment inspection.

5. Beside, there is R&D, QC, QA teams here. The QC has over 15 years working experience, who would stay in the factory to inspect each process of the production. Our aim is to check out and solve any potential problem before shipment, to move out any of your risk.

6. We have the certificate of SGS, and we could pass REACH, social audit, and Otex-100 certified,

7. We could help you to do customs clearance even door to door shipment.

8. For anything you need urgently, you could just call our sales staff before 12:00 pm ; We can reply at the same day.

9. We will attend the main trade show every year, such as Carton fair, HK Fair, and main international fair in Germany and USA. You could see our new products and make face-to-face communication